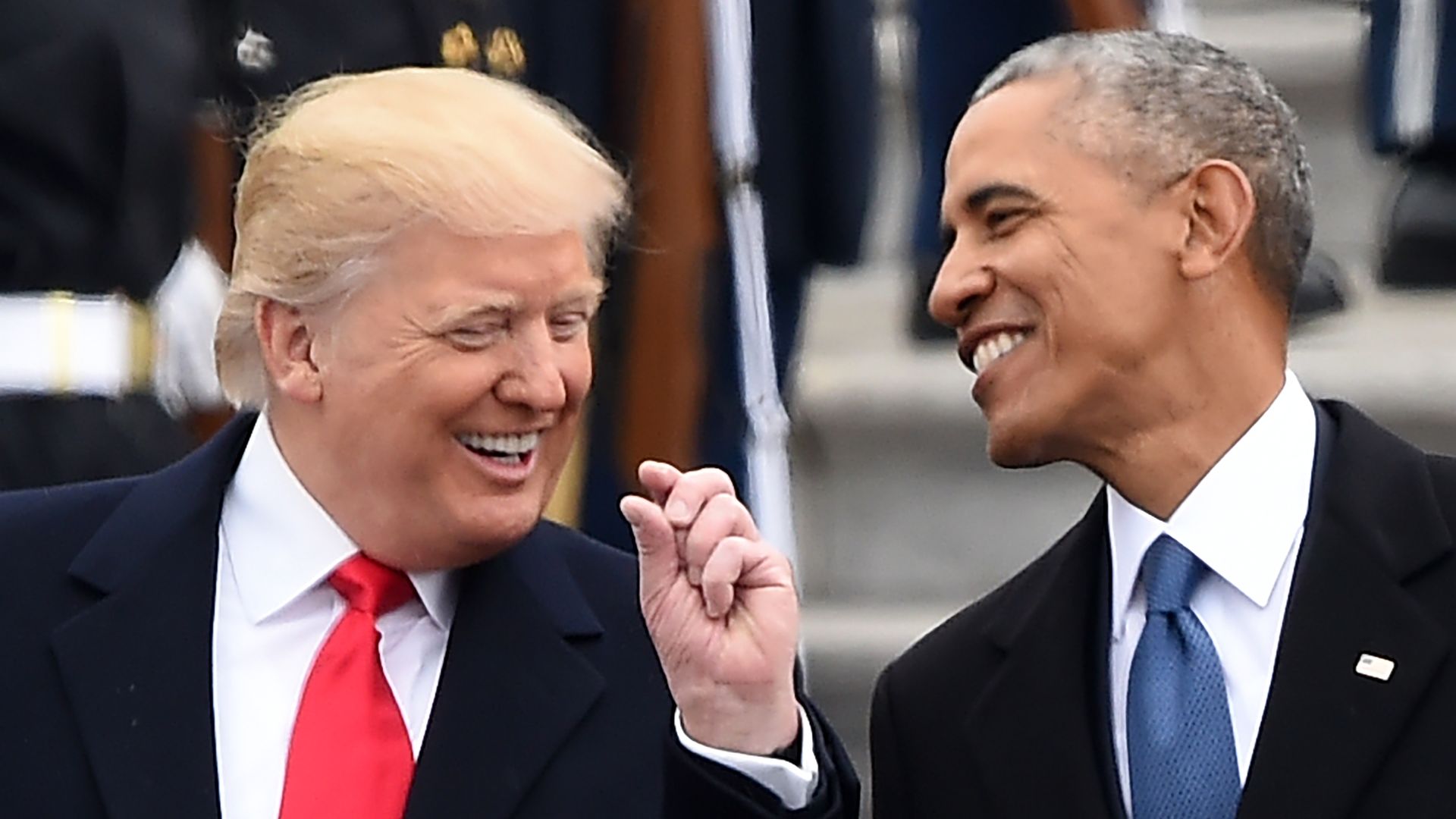 During Trump's run for office, he made it very clear he won't have time to golf  "like Obama" because he will have "too much work to do for the American voters."
Let's just check their records.
Obama's total golf count over eight-years which was 322 rounds played. If Trump wins the next election and serves a second term in office he is estimated to play 605 rounds of golf in total over his two terms, measured on a run-rate basis.
Trump faced criticism over Labor Day weekend for apparently monitoring Hurricane Dorian from his golf course in Virginia. The total cost of his golf trips during his presidency has now topped $110 million, according to HuffPost's analysis.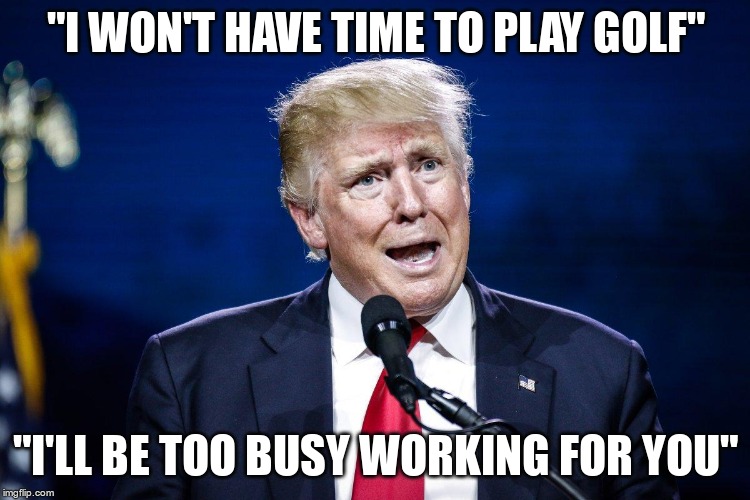 So, what is Trump's problem with Obama?
The Psychology of Trump's Preoccupation with Obama
Obama is antithetical to Trump. So long as he exists, Trump is threatened.
Eugene Robinson in the Washington Post, observing Trump's recent tumultuous 'chopper talk' with the press, noted: "Again and again, he tried desperately to compare himself favorably with his predecessor, Barack Obama. He did so by telling ridiculous lies that are easily disproved by the historical record — no, Obama didn't institute the cruel policy of separating thousands of migrant families at the border, Trump did; no, Obama wasn't denied permission to land Air Force One in the Philippines. You had to wonder whether Trump, who was the loudest voice in the racist "birther" movement, might have some kind of obsession with Obama and his continuing popularity around the world."
Chuck Todd, Mark Murray and Carrie Dann of NBC recently noted that "Two and a half years into his presidency, Donald Trump still has Barack Obama on his mind. Trump mentioned Obama, his wife and Obamacare 23 times in his interview on "Meet the Press" — when he was asked only four direct questions that involved the former president." Bess Levin in Vanity Fair articulated the oddness of Trump's Obama fixation when she wrote recently: TRUMP IS ONE BAD DAY AWAY FROM TWEETING "I'VE HAD THREE TIMES AS MANY WIVES AS OBAMA!" 
More recently Dayton's mayor, Nan Whaley, looking to persuade Trump to act on gun control in the wake of the recent massacre there, shrewdly told Trump: "You could do something Obama couldn't do."
Noam Shpancer Ph.D.,  wrote "I'd argue that Trump cares little about whether those in his circle or in his camp are white. He cares that they admire and work to prop him up and please him. It just so happens that most of those who do are white, and many of those whites are racist. (The same explanation, by the way, holds for Trump's constant lying. He doesn't do it to further a social, political, or ideological agenda. He lies about the facts when the facts fail to fulfill his needs or flatter him)."
A better explanation may begin with the simple observation that with Trump, the deepest motives are always egotistical since his florid narcissism won't allow any other person, entity, or idea to be more important. But what is it about Obama that so injures Trump's narcissism, compelling him to rage?
The answer is not that Obama is black, or a democrat. Rather, it is that in Obama, Trump sees his antithesis–everything he is not and cannot be. Politics aside, a fair look at what is already publicly known about the two men will suffice to conclude quite readily that Obama has basic decency, which is a core quality of character that garners intuitive respect across cultures and times, independent of one's status, wealth or fame.
The photos below are like salt in a wound. President Obama's success came naturally and his supporters were very different than Trump's followers.
The photo below of Obama's inauguration was taken on Jan 21, 2009, at approximately 11 a.m. ET. At this point, members of the House and Senate were formally introduced, but the Obamas were still inside the Capitol.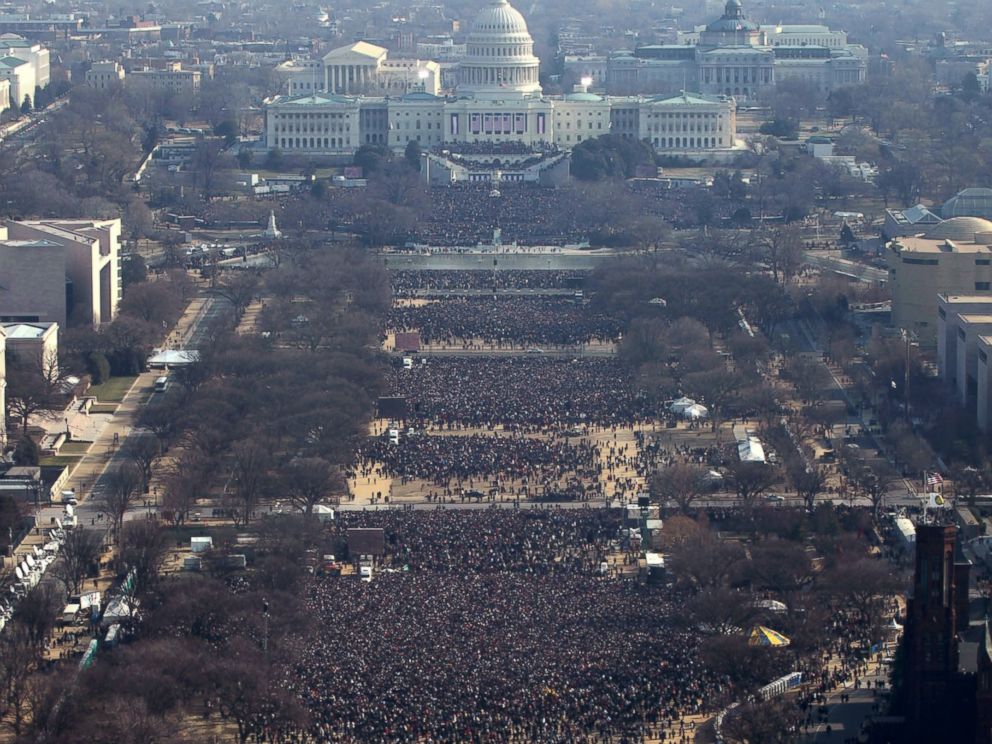 Why Obama remains an issue for Trump?
Obama is a man in full: self-made, self-aware, self-contained, at peace with himself, at ease in the world, and capable of relating with people at eye level. He can laugh with others and at himself. By temperament, he's warm, emotionally stable, thoughtful, and open-minded. The bright side of humanity is self-evident and fully intact in Obama. He traffics in inspiration. Many of those who disagree with what he's done as a politician would not mind being who he is as a person.
What this comparison makes clear is that Obama, psychologically, is antithetical to Trump. Therefore, so long as Obama exists, Trump is threatened. Specifically, the existence of a person like Obama is a dire threat to Trump because Trump's presidency is not a victory so long as someone like Obama can also have been president.
For Trump to feel psychologically safe and validated he needs to feel superior, not politically but personally. He gets to feel superior only by winning. But the win has to be personal. It has to be about him. For the presidency to feel like a win for Trump, he has to feel he's won it because of who he is. If it was in part luck, or a weak opponent, or the shifting zeitgeist, or racism, or a bad electoral system, or the Russians—then Trump's psychological system cannot register his presidency as a win at all.
Obama's existence as a former president raises the possibility that Trump did not win because he's Trump, since the anti-Trump has also won (not to mention he won the popular vote, drew bigger crowds, and did all that sans Russia's help). Trump can't be a winner if Obama, Trump's antithesis, is also a winner.
Psychologically, we labor most to destroy that which is most threatening. And the most threatening is often what we most covet and can't have. When Trump sees Obama he sees a truth that is both undeniable and untenable. Trump needs Obama extinguished like darkness needs light extinguished—in order to exist.
Noam Shpancer Ph.D. is credited for this fantastic article,