Saudi Arabia, one of the world's richest countries, has been bombing Yemen, the fifth-poorest nation in the world, since 2015—with support from the United States. Their mission is to topple the Houthis, an armed political movement that overthrew Yemen's president, Abdu Rabbu Mansour Hadi, a Saudi ally, in February 2015. Saudi Arabia (a Sunni monarchy with an oppressed Shiite minority) feared that the Houthi movement in Yemen (who are Zaydis, a Shiite sect) was acting as an arm of its regional foe, Iran, in an effort to take power right across its southern border. While the Houthis have never been controlled by Iran, Iran delivers arms to the movement.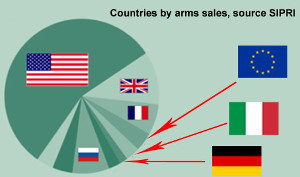 President Donald Trump's, the United States has put its military might behind the Saudi-led coalition, waging a war without congressional authorization. That war has devastated Yemen's infrastructure, destroyed or damaged more than half of Yemen's health facilities, killed more than 8,350 civilians, injured another 9,500 civilians, displaced 3.3 million people, and created a humanitarian disaster that threatens the lives of millions as cholera and famine spread through the country.
General Dynamics. Based in Falls Church, Va., General Dynamics is the world's sixth most profitable arms manufacturer.
A satellite guidance kit from Chicago-based Boeing, the world's second-most profitable weapons company.
A Paveway guidance system, made by either Raytheon of Waltham, Mass., the third-largest arms company in the world, or Lockheed Martin of Bethesda, Md., the world's top weapons contractor.
An In These Times analysis found that in the past decade, the State Department has approved at least $30.1 billion in Saudi military contracts for these four companies.
The United States is home to five of the world's 10 largest defense contractors, and American companies account for 57% of total arms sales by the world's 100 largest defense contractors, based on SIPRI data.