Trump's comment spoke volumes of what was to come.
"I could stand in the middle of Fifth Avenue and shoot somebody, and I wouldn't lose any voters, OK?" Trump remarked at a campaign stop at Dordt College in Sioux Center, Iowa. "It's, like, incredible."
His audiences love it. His opponents try to use it against him — but so far, to no avail.  Trumps fans when asked how they felt about his extreme statemens they will say, 'Yeah, sometimes he makes me cringe, but I still like him and I still think he's the right thing for America.' 
Trump has joked about killing people before.
Last month, he appeared to consider whether he would kill journalists, as Russian President Vladimir Putin — whom Trump defended — has been accused of doing.
"I would never kill them. I would never do that," Trump told supporters in Grand Rapids, Michigan, before reconsidering.
Who are the Trump followers who have willingly swallowed the kool aid and keep coming back for more?
A picture speaks well over a thousand words.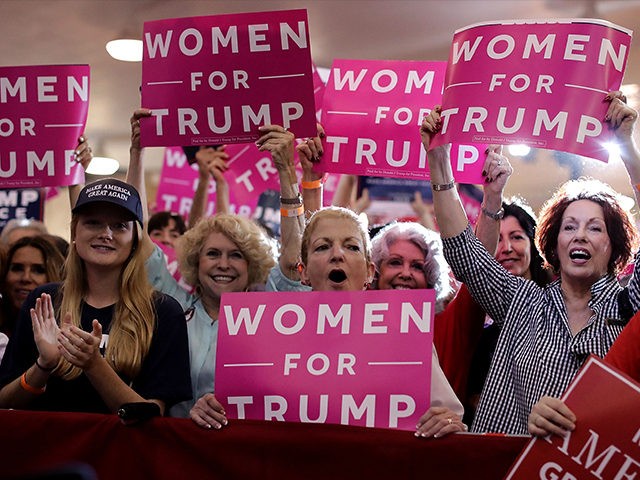 In fact, 52% of white women in 2016 cast their vote for Donald Trump. That was despite the 22 allegations of sexual misconduct against him. Roy Moore got 63% of the white women's vote in the 2017 Alabama Senate race, despite the sexual misconduct allegations against him. And Republican women were the only demographic that increased its support for Supreme Court Justice Brett Kavanaugh during the hearings of sexual assault allegations during his confirmation process in October. The older white female with a high school education, and a family income under $30,000 appear to remain Trump supporters.
The majority of Trump supporters view immigrants as a burden to the country, as a threat to "U.S. values," and favor the expulsion of undocumented immigrants.
11 million Americans have a worldview similar to the alt-right, KKK, Neo-Nazis, and all who are haters of anyone not white.  Many of them will show up at the ballot box in 2020 and beyond.
Trump is especially popular among white evangelical Christians, who overwhelmingly believe his sins are forgiveable since "God called him to be president."
Needs no comment about the wealthy following Trump