Updated 4:02 PM ET, Tue October 23, 2018
The dictionary's definition of the word seems innocent enough: a person devoted to nationalism (the devotion and loyalty to one's own country). But make no mistake about it. Nationalist is a loaded and controversial term.
It dates back to the 17th century and rose into prominence during the uprisings in the 18th century that produced the American and French revolutions. But the word attained more of a negative connotation during the 20th century as it becomes associated with the nationalist movements in Europe that helped lead to World War I and World War II.
Today the word is often associated with the far-right, racist ideologies of white nationalists.
Trump's political positions have shifted all of his life, but the one constant has been his distrust of international trade agreements and his belief that they're ultimately bad for the United States.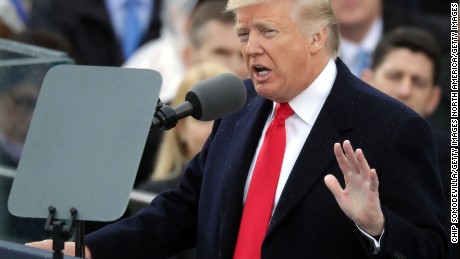 "We must protect our borders from the ravages of other countries making our products, stealing our companies and destroying our jobs," Trump said during his inaugural speech in January 2017. "Protection will lead to great prosperity and strength."
This type of thinking is typical of nationalists.
Trump wants to use a tagline from The Purge as his 2020 campaign slogan
 Donald J. Trump wants his 2020 campaign slogan to be "Keep America Great."
So there it is. "Keep America Great" and "Keep America Great!" are two phrases the president-elect would like to own so he can tie his political future to the legacy of a film in which a neo-Nazi paramilitary force plays a pivotal role in the plot.
Another favorite slogan Trump enjoys using has an odd history.